Nobody Spoil My Fun
Mar 30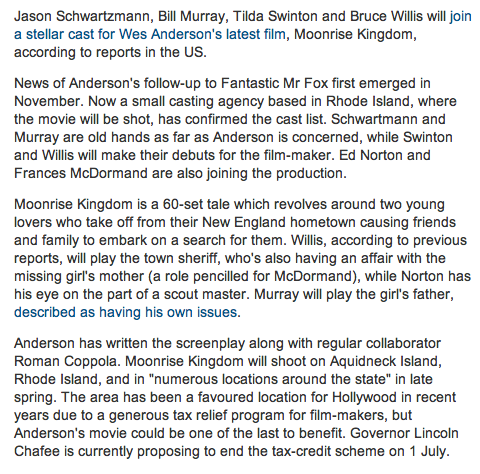 Am I late on this?! Or is this recent news?
Either way, FUCK YEAH! 
Mar 15
A selection of photographs taken by Bruce Mozert in the 1930's. At this point in time Bruce was the only person in the world to own an underwater camera. You would have thought the purpose of creating such a revolutionary device would be to photograph marine life, capturing fish and their friends in a natural environment, to make a name for himself in the National Geographic Magazine or something similarly themed. But not Bruce. No. Bruce thought that was a shit idea. Bruce thought a much better idea was to use his innovative contraption to photograph people mowing the sea-bed, shooting arrows and stuff. I think Bruce made the right call.
Mar 07
Just watched the 2011 Oscar winning short movie 'God Of Love' by Luke Matheny, who wrote, directed and starred in it. Really sweet stuff by a filmmaker who I hope has a bright future. Actually paid for it too with the last remaining pennies of an iTunes voucher, and I don't think I could have spent it any better. On something other than Angry Birds, at least. I wanna make short movies. 

 
Mar 06
I wish I liked anything as much as kids like bubbles Brian Cox likes science.
Mar 05
Eric Cantona was on the BBC this morning, still reliable for a ridiculous one-liner. The media's missed that guy as much as football has. I think with all the shock at the time surrounding 'the kick' in '95, I didn't notice the best thing about this picture, which is obviously the gawping chap in the racing hat. Actually, pretty much every reaction here is brilliant.
"It's a good thing I don't like spinach, because if I did, I'd eat it, and I can't stand the stuff. It's the same with you only the other way around."
Mar 04
flaminglipsday
Don't Look Now is on all month at the BFI! Real excited to see this on a big screen.
Mar 03
[video]
Obviously have too much time on my hands as I've spent the last half hour looking at photos of libraries, but I had to share this one… If I ever buy a house a library's going to take priority over kitchen, bedroom and bathroom.
Library by Otto Frello.